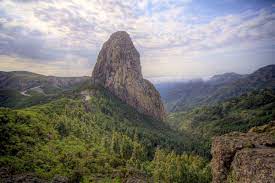 Yesterday on La Gomera, one of the lesser known of the Canary Islands, I was ambushed by emotions about the people i most intensely wished were there with me. The first was my late husband, Jim, who was an even bigger geology nerd than I am. La Gomera is one huge shield volcano, meaning that instead of going off in a way that creates the typical cone shape, it builds up through many leaks of lava on its surface. This resulted on La Gomera in massive numbers of volcanic plugs, the magma that didn't quite make it out into the air, but solidified in a tubelike shapes inside the earth. When endless time eroded away the softer materials around them, only the plugs remain (Devil's Tower in Wyoming, a central feature of Close Encounters of the Third Kind is perhaps the most famous example).
I could almost hear Jim saying "WOW!" every few minutes as another came into view (one in the photo above from the internet). I tried to conjure him to see it with me and I hope it worked. Then I started thinking about my parents, both of whom died in their early sixties. How they would have loved the opportunities I have had to see the world, and how utterly happy they would be for me. Of course, even if they had lived much longer, they would both be well past the century mark now, and even under better circumstances they would have been unlikely to know how this part of my life has turned out, much less come share it with me.
I have now lived without them for more than half of my life and am a decade older than they lived to be. They were of a generation and an upbringing that made them not seek to be forever young, or care much about physical appearance. They both went gray, had little sense of fashion, and never tried to be cool. They were—well, parental. I liked their (mostly) easy company and I basked in their love and appreciation of me.
I didn't appreciate them nearly enough in return. Recently I ran across an article in which the author asked a simple question: what did his parents want? If anyone reading this has parents who are still alive, it's not too late to ask, but I am stuck having to guess. I am sure the first thing they both would say is "more time." I wish they had that also, but what else?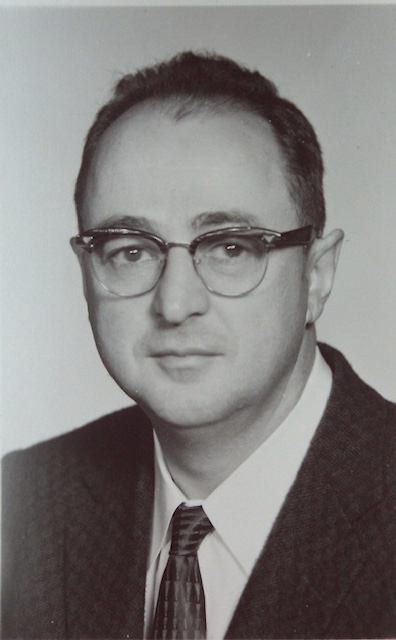 What did they want for themselves? My guess is their answers would overlap in many ways but also diverge. I am certain they both wanted my mother not to have the crippling dual disabilities of ankyloid spondylitis and severely reduced lung capacity that kept her from doing many things. They both very clearly wanted a stable, loving family home. They also wanted (but rarely got) time away from that home— opportunities to travel, and (I assume) to escape responsibilities now and again.
My father was happiest in his intellectual work as a theoretical physicist .I think he loved disappearing into his thoughts, and though he was not in the least aloof toward my sister and me, he was not always there either, even when he was physically present. I don't remember him playing any role in caring for my sister and me. He earned the money and made sure were were all okay. That was his role. I don't remember him reading to us at bedtime, supervising a bath, or making sure we had lunch money. I remember one incident where my mother had apparently told him to clip my toenails (I wonder whether she had read him the riot act about maybe helping out once in a while). I wanted her to do it, of course, because the whole thing was so odd. The reason I remember it is that he did such a poor job that he drew blood from nipping the quick of one nail. And that was the end of that. I think he liked having his two daughters. I know he loved us dearly. I think, typical of the times, he just wanted to come and go from the mundane parts of parenthood.
I think my mother did too. And of course she couldn't. What else was she to do in the 1950s and 60s? I think she did the best she could, but really wanted another life. I think she would have liked to have a career. I think she would like to come home to a house she hadn't cleaned. I know she preferred dinners she hadn't cooked, regardless of what they might be. I think she would have liked more chances for intellectual stimulation. I wonder if she ever indulged in a fantasy of running away and chucking it all. I suspect if she did, she felt guilty about even the thought. She shouldn't have. It was a reasonable response to the dilemma of too little of life turning out the way she imagined when she got an MA in chemistry and was briefly a single woman working in a cutting-edge medical lab.
What did they want for me? They both wanted me to go as far as I could with my education. They were projecting graduate school for me when I was in junior high. I hated their expectations back then, but they understood me better than I did myself at that age. They wanted me not to settle down until I could be set for life with a foundation I had made for myself independent of a husband.

Did anyone else's mother react to the engagement of her daughter with a desperate, pleading, "But why????" Yeah, my mom said that.

When I went on to get a Ph.D. and teach at university, they relaxed about the marriage thing working out, without really knowing how underneath the surface it wasn't working out well at all. Though neither was alive when I divorced, they would have been pleased to know that I earned enough money that I didnt have to stay.
All that was a long time back. What would they want for me now? I think they would be thrilled with what I have done with my life. Although my mother believed I would write the Great American Novel, I suspect she would be pretty happy with my four lesser ones. I am sure they would be happy that my career kept alive the life of the mind. I imagine my cruise lecturing is beyond even their wildest imagination for the life their daughter might lead. I suspect they would be totally supportive of my present vagabond lifestyle, because when the details are stripped away, the prevailing theme of my life right now is choice. Choices they never had.
A line from Mary Oliver is my screen saver, to remind me to ask myself this question every time I open the case: "Tell me, what are you going to do with your one wild and precious life?"
Wild.
Precious.
Is that how my parents saw their time on this earth?
They were born into an era where it was so much harder to say, "no, I'm going to do this my way." My father died before he retired. They never got to hold hands and jump into that wild and precious world of possibilities. I can picture their glee as they drove off in their camper to do who knows what for however long they wanted, or got on their first plane to a place on their bucket list. Except it didn't happen. But it is happening for me, and I plan to do a better job in the future of remembering that everywhere I go, they travel with me, tucked in my heart.