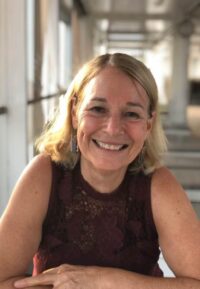 The second most exciting thing in life for me has always been learning something new. The first? Getting to share what I've learned with others. My life has given me so many opportunities to do both—as a professor (retired), as a historical novelist, and as a cruise lecturer.
My goal as a historical novelist is to provide you, the reader, with high-quality fiction about women and the forgotten and undervalued roles they played in their societies. Whether it's the real-life physicist Emilie du Chatelet, the literary heroine Penelope, or women who have sprung entirely from my imagination, I offer you stories true to the facts of a time and place, to bring history alive for you and make you feel as much a part of other cultures as you do your own.
As a world-wide lecturer for several cruise lines, I use my career as a college professor of humanities to find the stories that make travel more exciting and memorable.
If you have either met me recently or been in my life since I was a teenager (or younger), you may know me by my birth name, Laurel Weeks. I have been using this name in my private life for several years.
Please check back from time to time for updates on my new projects and schedule, and drop me a line at lacauthor@gmail.com to let me know you're out there reading and traveling!
From my diary
Thoughts From Behind the Wheel

A long drive through the French countryside today gave me lots of opportunity to reflect on what this trip, now nearing an end, has taught me. I can't say I have had any earthshaking revelations about things like the meaning of life, but there have been moments that fall into the category of things I already knew but appreciate more fully now. Foremost is the fact that the only space for authentic life is the present. I think travel helps with this realization because we are aware that we will not be in the same place tomorrow. We need to see, feel, hear, taste…

Changing Seasons, Changing Plans

Tumultuous times in my head. I am almost six weeks into this travel adventure and it feels like a shakedown for my next chapter. Living on the move like this leads me every day to evaluate what still works for me, what I am done with, and what my priorities are. Yesterday was lovely in the ways a well chosen day in Europe is lovely. I took a day trip to Montreux and Vevey, two must-see spots on Lake Geneva (Lac Leman to locals). My first reaction to the lakefront promenade in Montreux was "I want to stay here forever!" Things didn't…

The Meaning of Mountains

As I write this I am about as high in the alps as one can get without mountaineering. I am at Gornergrat, the end of the cog railway going up, up, up from Zermatt, already high in the alps. I have been brought to tears twice already since arriving in Zermatt yesterday. The first time was when I saw the Matterhorn for the first time. Am I the only one who sometimes has to look away because the sight is just too much? Too beautiful, too powerful, too much of a bucket list suddenly fulfilled? That's what it was like….