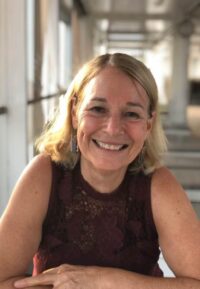 The second most exciting thing in life for me has always been learning something new. The first? Getting to share what I've learned with others. My life has given me so many opportunities to do both—as a professor (retired), as a historical novelist, and as a cruise lecturer.
My goal as a historical novelist is to provide you, the reader, with high-quality fiction about women and the forgotten and undervalued roles they played in their societies. Whether it's the real-life physicist Emilie du Chatelet, the literary heroine Penelope, or women who have sprung entirely from my imagination, I offer you stories true to the facts of a time and place, to bring history alive for you and make you feel as much a part of other cultures as you do your own.
As a world-wide lecturer for several cruise lines, I use my career as a college professor of humanities to find the stories that make travel more exciting and memorable.
If you have either met me recently or been in my life since I was a teenager (or younger), you may know me by my birth name, Laurel Weeks. I have been using this name in my private life for several years.
Please check back from time to time for updates on my new projects and schedule, and drop me a line at lacauthor@gmail.com to let me know you're out there reading and traveling!
From my diary
The First Woman to Drive Around the World Was a Teenager in a Model T

I haven't published a book in the last decade. That doesn't mean I haven't been writing, just that developing cruise lectures and dealing with other life challenges and opportunities took up my time. It was more than that, though. I love to write, but everything else that goes with publishing had worn me to a nub. Plus, in order to commit a year or two to an all-consuming project that often overrides the things I do to maintain my health, sanity, and friendships, I had to feel an overwhelming compulsion to tell a story, and I hadn't run into anyone…

Nine Months

Ivan died nine months ago.  Today is his birthday, so the time after Ivan has now been the same length as the time before he was born. In between were forty-three years. This photo was taken forty-one years ago today, when his more birthday-experienced big brother Adriano was showing him how to blow out the two candles on his cake.  I recently read something to the effect that the body often moves forward too quickly in the aftermath of a great loss. There is, after all, so much that needs to be done. But in this burst of activity to…

Forgiving Better, Part 2

Note: I posted the first part of my Rosh HaShanah talk yesterday. If you didn't see that, you might want to scroll down to the bottom of this post and open the link to that one first A very smart friend of mine once suggested that the first task in forgiving is to ask yourself the question, "am I willing to forgive?" That's a game ender unless you can answer truthfully that you are. To forgive you have to be willing to level the playing field. You have to be comfortable with the idea that they're only a fallible…