I visited Verona for the first time about thirty years ago and fell in love with everything about it. I went in November, when the residents had reclaimed the city, and saw for myself the rhythms of life there—the children  walking home from school, the passegiata, the cafes, the storefront displays magical in the golden light of evening.
Verona was the first place I truly appreciated the incredible creativity of Italy's artisans—how shop after shop had unique designs for everything from handbags to kitchenware. I learned quickly that if you wanted something you needed to buy it right then because you wouldn't see it anywhere else and you might not ever find the store again. I learned not to navigate by what was in the store window at the corner where I needed to turn, because the love of creative display meant that in the interim the window display quite possibly would have changed.
This is my first time back in Verona, and I have been —sad to say—quite disappointed. The main shopping street is lined with the same stores you see everywhere—Stefanel, Luisa Spagnoli, Benetton, et. al.—displaying the same clothes on the same blasé looking mannequins I've seen everywhere. Not until I got to Bolzano yesterday on an overnight side trip did I see in a scattered handful of stores the kind of originality ( like the yellow boots in the photo below) that once was common everywhere in Italy.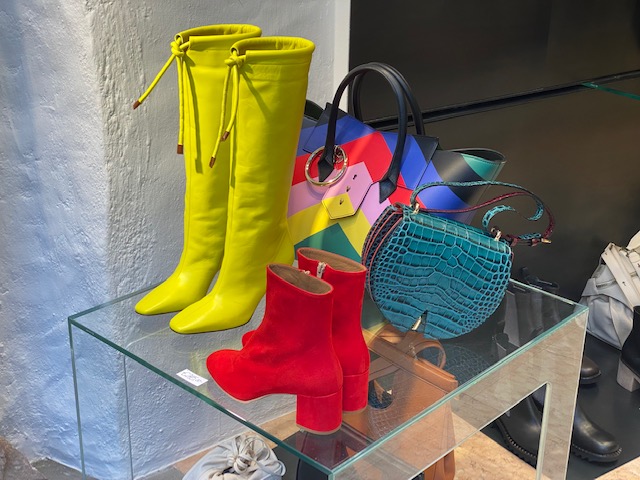 While I was coming back on the train for one final day in Verona, I had a long talk with myself in which I pointed out how, when I was here before, everything was new to me. Even products I wasn't remotely interested in fascinated me, and every street held new things to get excited about. I told myself if I judged Verona today only by stores on the main tourist streets , or by whether I had ever seen anything similar in the years since, it was my own fault if I didn't enjoy myself. 
So, this afternoon I set off to wander off the tourist path, and lo and behold, it's still a great little city! I found quiet neighborhoods, beautiful viewpoints, and every three or four blocks, a proprietor still selling original things from his or her own quirky shop.
Forget Juliet's (fake) balcony. There are streets with overhanging timbers and exposed stone walls that look as if they haven't changed much in centuries. There are places where the cobblestones are worn with age. Walking these streets in a light drizzle in late afternoon added to the sense that I was in another time, far removed from Hugo Boss and the Nike Store.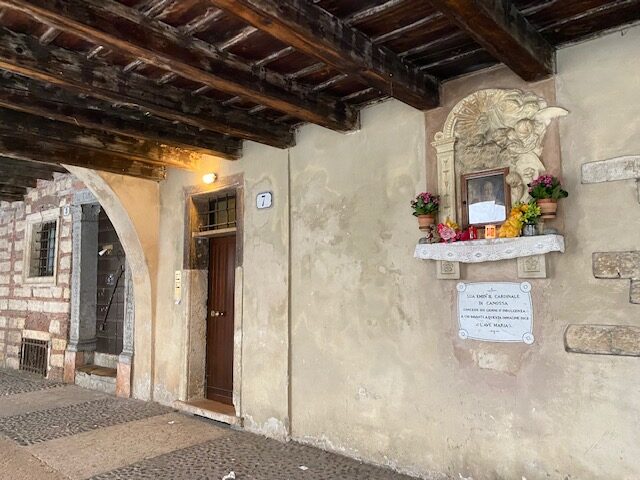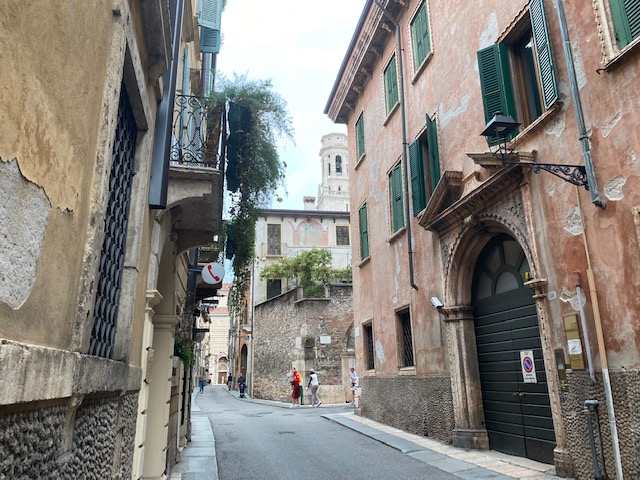 I had a rejuvenating day when I least expected it. I am off to a bucket list destination tomorrow—Bergamo, a medieval town perched on a cliff, loaded with history, and ( based on descriptions) charm. Yesterday I was wondering whether it too would have become so homogenized it would engender boredom more than the wonder and newness I seek from travel. But I know now it doesn't really matter. Though the Italy of artisan entrepreneurs may be harder to find these days, there are always back streets where surprises await.