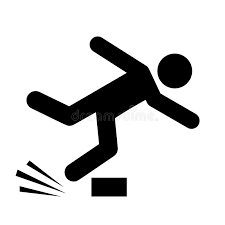 I am a hopeless word nerd. Maybe I my brain was subconsciously tracking the fact that I am about to uproot myself and resume the vagabond life I had before Covid, but I found myself thinking about all the words we have for going off to see the world.
Where did the word "trip" come from, I wondered. Here's what I found out from my best friends Merriam and Webster:
From Middle English trippen ("tread or step lightly and nimbly, skip, dance"), perhaps from Old French triper ("to hop or dance around, strike with the feet"), from a Frankish source; or alternatively from Middle Dutch trippen("to skip, trip, hop, stamp, trample") (> Modern Dutch trippelen ("to toddle, patter, trip")). Akin to Middle Low German trippen ( > Danish trippe ("to trip"), Swedish trippa ("to mince, trip")), West Frisian tripje ("to toddle, trip"), German trippeln ("to scurry"), Old English treppan ("to trample, tread"). Related also to trap, tramp.
Okay. Sort of.
Somehow when I think of the word "trip," I am more likely picturing myself sprawled on a sidewalk than "stepping lightly and nimbly," "trampling," or "toddling."
And then there is the way I have used it since my rather checkered college days, when a trip involved hallucinogens, and then later evolved into a term used for anybody who seemed out of touch with reality. They were, well, trippin', and never with a final "g." And anything out of the ordinary, unbelievable, or even mildly interesting was "a trip." A trip to where? Nowhere except those fun spins the mind takes us on.
And how about the use of the word for the annoying experience of being tripped up by something. I guess that's the closest we get to the original meanings of the word. We refer to these situations sometimes as stumbling blocks, which is a vivid, although a bit redundant, image for anything that gets in our way.
And then there's the most a propos usage today for me. I am going on a trip. A long enough one that maybe another word is better. This is not a trip to the store or the dry cleaners. This is a travel challenge, a reawakening, and so much more.
Something else springs to mind. Trip the light fantastic. Dancing with a big grin. Unable to keep the dance out of my step. That's about right. See you later, average, normal, typical. I'm light, and headed for fantastic. Me and Mamie O'Rourke.