I wake up almost every day ready to paint a happy face on it. When I don't feel that way, I keep it to myself. Today, I am going to do something different. I am going to admit that I feel grouchy.
The Caribbean is fun for a while, but it is not different enough from place to place to hold my interest. The snorkeling, except for Bonaire, has been disappointing. The "sailing adventures,'" again except for Bonaire, have been motor cruises on a sailboat. I don't think putting up just the jib counts, especially when it's not even trimmed. The rum punch and the sea air are pretty darn fun though.
I haven't done much of anything ashore for a week on this New Year's cruise, my last on Odyssey. We missed one port because we weren't allowed to dock, then today only those on excursions can go ashore (I don't have one, so here I am in my room). The onboard programming has been thinned out due to concerns about social distancing, and I am traveling alone, so I don't have the impetus of another person to get me out and about.
I am still having fun with some very amusing people. The ambiance of music on the pool deck and balmy evening meals al fresco are enough to rapidly adjust my attitude back to a measure of bliss. I am fine where I am. I always am, with a few exceptions I must have blocked from my memory at the moment.
The reason I'm writing this is not to complain but to share something that occurred to me while I was 'owning" my grouchiness. I realized I also have to own the responsibility for not being grouchy. Yes, there is absolutely nothing on today's schedule, which only means it's up to me to fill the day.
So I started casting through my mind for what might be good things to do. I could write a blog post (doing that!). I could do the laundry (on it!). I can go out on my nearly private sun deck a few steps from my room and enjoy an unusually cool Caribbean morning while listening to my latest audiobook (going there now—see photo).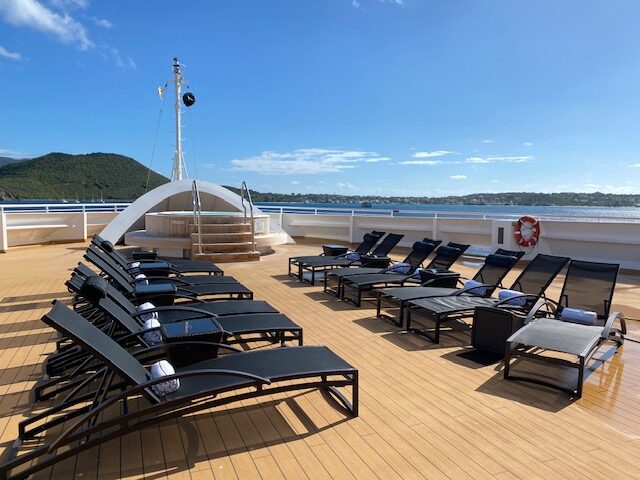 I can do some prep for upcoming talks and have that off my mind. That should take me to lunch. Then, since I don't have a talk today, I can have a little wine with lunch. In the afternoon, I could indulge myself with the one calorie-bomb drink I allow myself per cruise (one of the rules that keeps my pants buttoned). Pina colada? Mai Tai? Hmm… I'm pretty certain that will lead to a nap, and then, voila! It's late afternoon. I am getting over the grouchies just thinking about it.
So the moral here is, it's not the Caribbean's fault I am bored. It's not the ship's fault I am restless. It's not COVID's fault that restrictions frustrate me. It's all on me. I am lucky enough to be able to choose what kind of day I will have. Funny, I feel like going out with my happy face again. It's a good day after all!.