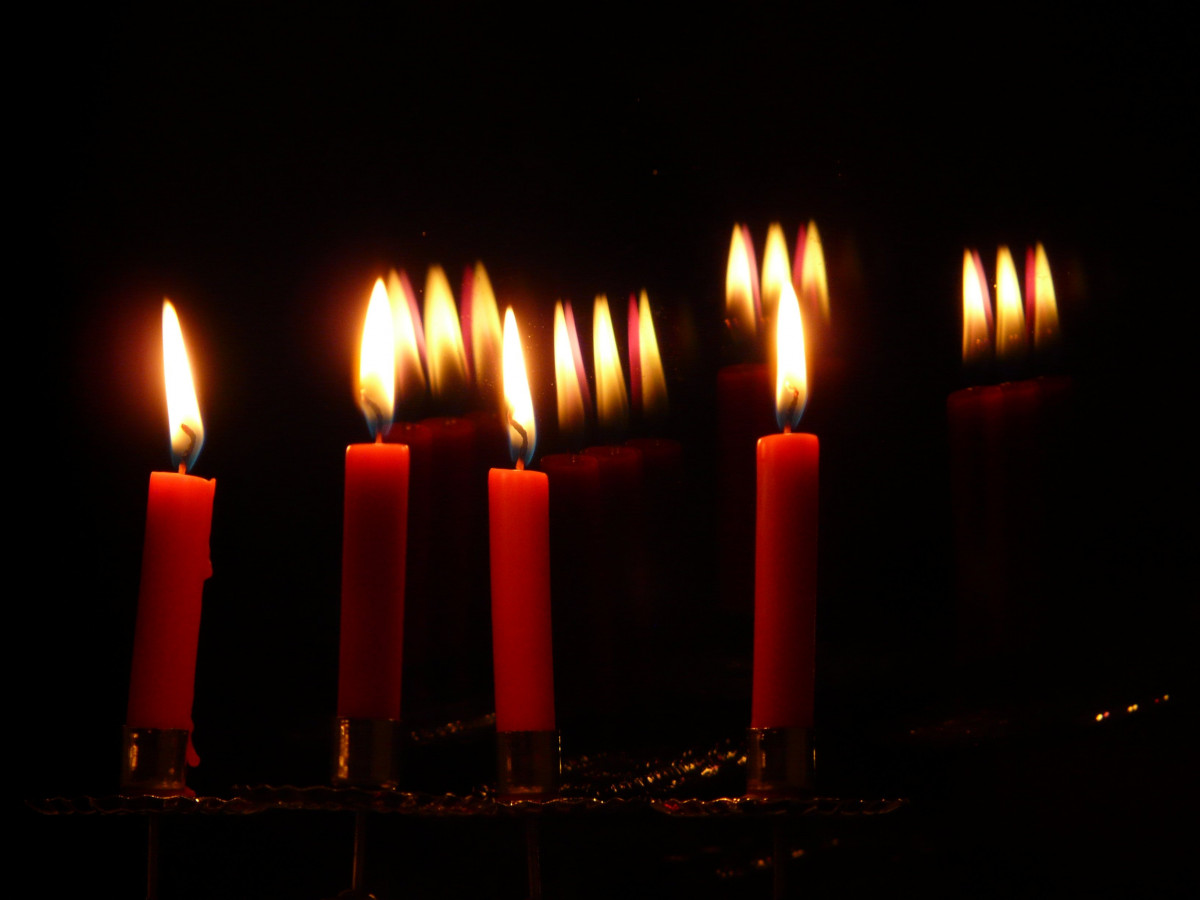 Victoria is covered with a foot of snow. The streets are brown with slush and today will be treacherous with ice after a solstice-long night of temperatures well below freezing. It's a good time to stay inside and light candles.
We don't live in an era when candles are necessary—unless we forgot new batteries for the flashlights and the power goes out—but they are one of our most potent symbols. Jews are lighting them this week in celebration of a miracle. We light them to usher Shabbat in and out. Many Christian denominations light them at the altar to begin services. They are one of the most powerful ways we have to separate ourselves from the mundane and ordinary and enter divine space and time.
Or just inure ourselves to the long, cold dark of winter. Years back, I took the coastal steamer one summer all the way up Norway to the Russian border. Because it was the means of transportation for local people and goods, I had a few hours in several remote towns unvisited by tourists. I spent a fair amount of time poking around hardware stores because I have always been curious about what we now rather inelegantly call "life hacks," which are on display in what local people buy. I was amazed by the quality and quantity of items relating to setting a beautiful table—runners, mats, tablecloths, and of course candle holders. In a town without tourists to sell sticker-shock Scandinavian brands to, where else is there to shop for beauty but the aisles between the snow shovels and the bins of nails and hinges? Though it was midsummer and only passingly dark at any point, it seemed clear to me what this was about. Winter is either here or coming in this part of the world.
There is something deep in all of us, I suspect, that understands that beauty keeps darkness at bay, that light helps to banish loneliness and isolation. In the long stretch of time between ending my toxic marriage and meeting my great midlife love, Jim, I collected tableware and changed out my table every few days. For a while I set two places even though I knew one would be unused, mostly because I preferred the way it looked, but admittedly because it represented some future hope of having the right person seated there. Funny, how when Jim died, I went back to doing this, but with only one place because now it was too sad a reminder of the man who wasn't there. And, I realize now, it was an important symbol of how I had fully embraced the idea that I, by myself, was enough.
The lighted candles were part of those tables. They help us weather all variety of storms.
As often happens when I post here, I think I will write about one thing and end up talking about something else. I thought I was going to write about weather and memory, and if you go back to the opening you will see how it took just three sentences to set the course this post was meant to have.  My jumping off point was going to be how I notice when I think back about my travels, how rarely the weather factors into my memories. Southeast Asia is very hot and humid, but what I remember are the Buddhas and the bustle. Don't ask me whether I was wearing a parka or a light jacket as I was exploring the Maritimes, or whether it was a day for sandals or shoes and socks in the Canaries. I have to look at my photographs to remember. 
Of course there are exceptions—the sudden torrential rain flooding the streets as I was showing my friend Linda the sights of one of my favourite cities, Riga.  Taking advantage of waterproof boots to splash in puddles in Quebec City with my friend Nancy. Scrambling to put on layers of summer clothes for an unseasonably cold day in Morocco with my friend Jane.  But these are the exceptions. Maybe it's because I spent most of my life in Southern California, where the weather report is on a continuous loop most of the year, and maybe it's because I have mostly traveled at the easiest part of the year weather wise, but really it's just that everything else counts for so much more. 
And so it is today. There's snow piled in the yard, the paths along my beloved cliffs will be far too icy to risk a walk. And probably all I will remember is the glow of the candle I will set in the window. Blessings of the solstice to you all.