There's nothing more exciting than a rush. There are rushes of emotions, rushes of experience, rushes of insight. Forget the bad rushes. The good ones are what make life birth itself again.
There are several rushes in my life now. I am back living in my favorite place, one block from the cliffs at Dallas Road in Victoria (photo of a part of my walk below). I walk almost every day for a while there to center myself, and I am always overwhelmed with gratitude and joy that I am here now. That I am still alive to the sea air and the sound of the waves, and the cliff faces, and the piles of bleaching logs, and the pebbled beaches, and the colors, and the brightening sun, and the sounds of people, dogs, gulls.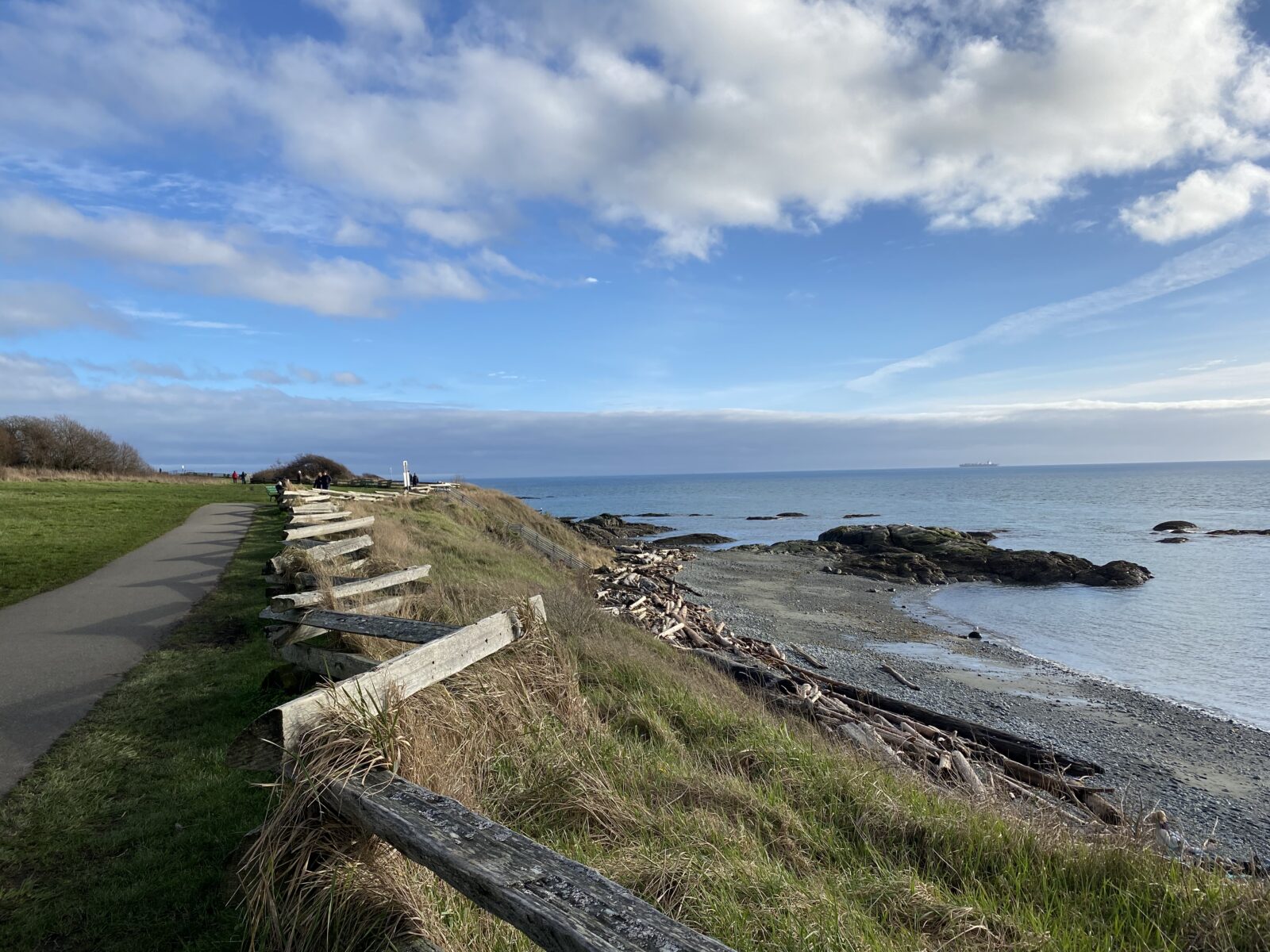 There's another rush now, because I have reached the point in my new novel where the characters are starting to come alive, where they tell me what they are thinking, where they tell me what to write. It's what always keep me going, this sense of surprise. Today, for example, my main character revealed to me how angry she was at her husband, how ready she was to respect herself by not finding her identity in his wake, and she makes more sense to me now. The subsequent story will follow on the energy her voice is generating. The husband will be revealing himself too. I just have to wait for it.
I don't know about other authors, but when I begin writing, I use the first draft to find out who my characters are. First drafts for me are about thoughts and dialogue. Even a complete first draft is, I think, maybe 60% of the way to the finished product. I draft quickly, and then I worry later about things like the weather, or whether my characters are walking in the park or eating while they talk or think. I care even less if it is breakfast or lunch, and if breakfast, whether it is pancakes or eggs and how the eggs are prepared. I don't care if they are hungry enough to eat or if they just pick at the edges. By the time you read the book, all those details will be there, but it is the discovery aspect of the first draft that thrills me the most.
Wow! I just didn't know until the fight in the hotel room broke out that my protagonist and her husband were that much at odds. I didn't know until she rationalized her own affair how much his philandering affected her self esteem. I didn't know that she was contemplating leaving him. I didn't know until she broke away from her mother how strongly she felt about not letting anyone else dictate her life, and how she would have to defend herself against that again in her relationship with her husband. Yes, these are real people, so I am reading things into their story, but there is another kind of truth that a writer has to reach for when the known facts simply run out, when it's up to me to make the facts make sense.
I have set something powerful in motion and I can't wait to see what happens next. That's what makes it a rush. The final rush will be sharing it with you with a cover around it. Don't hold your breath. Right now the creativity is enough. Kind of like the wind blowing in from the sea today. Who knows where it goes?