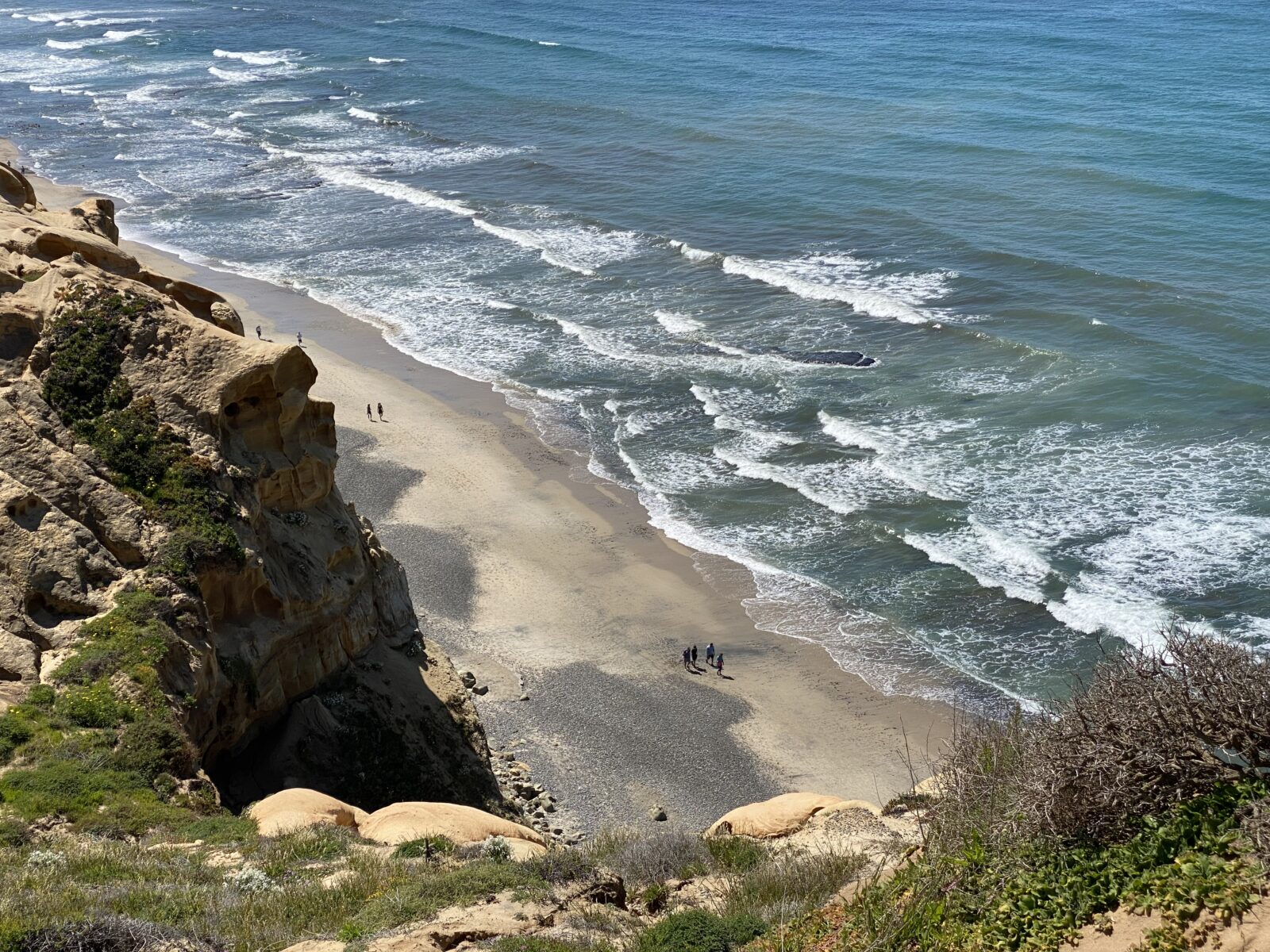 I have been in San Diego for the last bit of time, seeing many of my longtime friends. It's been a bumpy ride, full of both immensely gratifying expressions of love and also gut-clawing moments of loss. It's going to take more than one post to work through all the things I think it is important to get into words, but I want to start here.

When I am feeling confused, or lost in what to make of the new reality of my life, I find that I often say out loud to both my sons, "Okay, help me out here." I ask them what I need to know, do, realize in order to put all this loss in perspective. In order to know how to move on with my own blessed and beautiful life.

I believe they speak to me. They tell me to look around and see the messages that are right in front of me. A few days ago, I was walking on the trails of Torrey Pines State Natural Reserve (photo above). It was so beautifully lit with spring flowers, wind-carved sandstone cliffs, white breakers and brilliant blue water out to the horizon. I realized I was crying as I stood and felt the warm air and heard the crash of the surf. Ivan wasn't here. I can't bring him here next year, or ever. It is too late. I can't change any of it.

Adriano comes back often to be with me now in spirit, brushing one shoulder while Ivan hovers at the other. 'What can you tell me?" I asked as I walked along the path. Ahead I saw a single bench at a viewpoint and was momentarily disappointed to see it was occupied because I wanted to sit and think for a while. There was a father explaining to a boy of about seven how the helicopter that had just gone by managed to fly. His younger brother sat on their mother's lap, listening also.

And there was the lesson my own children wanted to tell me. I shouldn't dwell on just the awful final chapters for each of them. We had sat as an intact family just that way. I have countless moments of absolute joy in being their mother, and they were bathed in love. There was a time when a caring father was part of it too.

I had that.

No, I have that forever.

An electronic photo frame comes out of storage when I am in any place for more than a few weeks. It changes as I grapple with what I feel comfortable seeing. For many years I didn't want to look at pictures of my family because all I could see were faces that didn't realize the train wreck that was coming for us all.

I think I've changed. I think I can come to see those photos, those memories, as a time I once had, a time that I couldn't hang on to, but that needs to be remembered, treasured, heard. I am so very blessed to have had those beautiful boys to love and cherish. They want me to remember that, and to let their faces, their precious hearts tell me through all those memories how much I was loved in return.