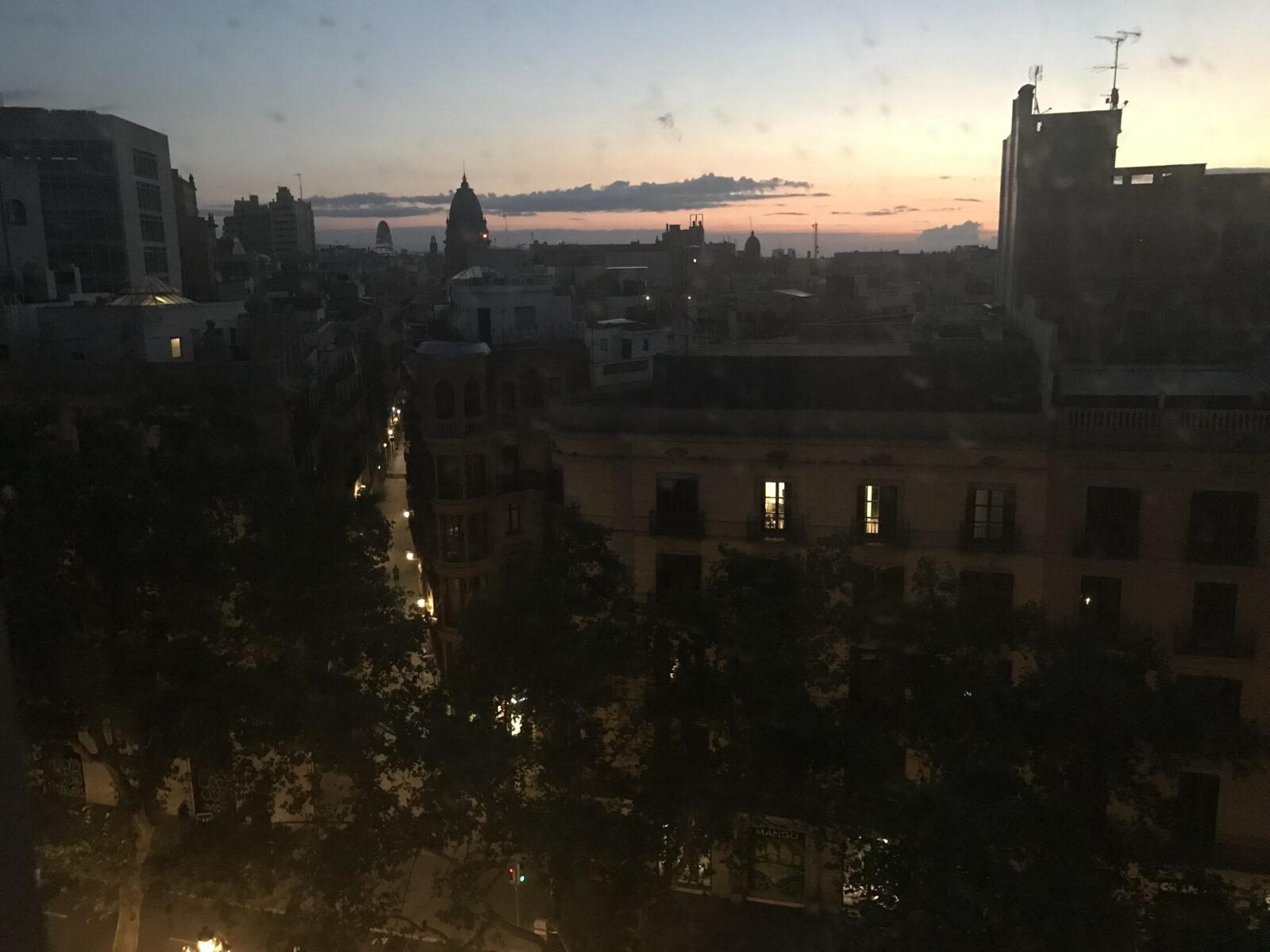 I am sitting in bed in my Barcelona hotel, at the crack of dawn, having arrived last night. As usual, my first night's sleep was fas shorter than it needed to be, but no worse than any restless night. One of the things about traveling a lot is that I just let jet lag be what it is going to be and last as long as it's going to last. Sorry, body—I've done it to you again. Just go with the flow and we'll be fine.
That's easier to do now that my approach to travel has been revolutionized.  Now that I don't have any fixed expenses for housing, I can choose to be wherever I want to be. I could still be in Victoria, but I was ready for something new.  I have no agenda here, no need to make the most of limited vacation time and money. In fact, I suspect i may even hang out in the hotel a fair amount.  I'm not racing around to see, buy, or eat this or that (although pinchos and wine are calling to me already). 
I'm in Barcelona because I will be embarking from here on Seabourn Ovation in October, and my hotel has graciously agreed to keep my cruise suitcase for me for seven weeks so I can travel until then with only one smaller bag..  Seven weeks! Free! Now that is hospitality! 
I decided to stay in Barcelona for three days before going to Montenegro, my first real destination, because I always worry about my luggage arriving when I do. It's a habit I got in with the cruising, because if your bags don't come to the ship when you do, well, you'll get pretty tired of wearing whatever you traveled in until you arrive at the next port with an airport. It's a experience I hope I never have.
Observations come hot and heavy when I am in a new environment, and one of my first ones this time is that I really like hotels. It is so cool that a room is clean without any effort on my part, that the towels are fluffy and white, and that everything for coffee is sitting there waiting for me. Need anything? Someone brings it.  What's not to like, except the occasional incomprehensible shower?
But my biggest surprise is really the main reason I am writing this morning. I tend to be so involved with whatever i am doing, or planning the next thing, that I have little time for nostalgia. I was surprised, therefore, at the wave of emotion I felt about leaving Victoria. By the time I left San Diego last year I was so ready for change that I barely gave the city I had lived in for over fifty years a thought.  
As I looked out the window of the bus taking me from Victoria to Vancouver, I passed Elk/Beaver Lake, one of my favorite places for a long, peaceful amble.  It is still green with summer, and I thought how much I will miss seeing it this fall, and how when I return in February, the bare trees will give it a different kind of beauty I also love. I was struck by how unusual it was for me to react so strongly about how much I would miss something and how much I look forward to coming back.
Could it be that I really have found a place I want to call home? And what does that mean to someone like me, who equates being home with just being authentically myself?  Does this mean I am in the first stages of another sea change, in which I get tired of being a vagabond and  put down some new roots? I have no idea. That's the best part about being open to anything. I can just wait and see.