Tomorrow marks the end of my two weeks here in Emily Carr's studio. I will move to more contemporary accommodations a few minutes away on the other side of her ( and now my) beloved Beacon Hill Park.

It has been an eventful two weeks, highlighted by finishing a fairly good draft of the first play of my new trilogy of one-act plays, EX3 (Emily Times Three), and a first pass at about half of the second play. All three take place in her studio, and I have had the unusual experience of actually being on the set as I write.
Of course, it isn't "hers" anymore in many ways. The layout of the rooms has changed, and the clutter of her work environment, which also had to serve as the dining room for her boarders, and indoor residence of her many pets, is gone. Still the feel of the area where she painted is very real, and I have marveled that so many of her major paintings were propped up drying against these walls after being at first a blank canvas on an easel right where one stands today.
I think what I will remember most vividly, in part because I couldn't take pictures and just have to burn it into my mind, is the attic. Peter Willis, whose grandmother bought the house long ago, and who now owns and manages it, gave me access to it while I was here.
Emily used to climb up a ladder and crawl through a tiny door that is still there close to the ceiling in the living room of her studio, but now, thankfully, there's another entrance through a door in the hallway outside. From there, you ascend to find yourself in a place where her presence is still palpable.
There is a small room where Emily used to live when she was so broke she had to rent out her own rooms. It is only a few steps across, and under a sloping roof . The ceiling and walls are rough hewn lumber, as is the creaky floor. To one side there is a long crawl space going to the other end of the house, which would have been where she came in from the studio. There, in a space only about three feet high, she had her bed and space for her pet monkey, who left scratch marks in the wood. She would have had to crawl, even in her fifties and very overweight, to get to the small room in the attic I could access. There, she created what I am sure will be for me the most indelible memory of my time here.
Painted on the ceiling boards on each side of the steeply sloped roof are two eagles with their wings outspread to a length of about ten feet, the entire length of the room. They are painted in black in a design typical of the indigenous people of Vancouver Island. Below the eagles on both sides is a running border of red frogs also done in a typical indigenous style. I know archival photos exist of the eagles, but there are none I could find online, and I did honor my word that I would not take any. I did find this one of a single frog, so you can picture the style.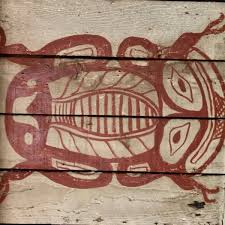 Tonight I made my last trip to the attic. I sat in the semi-darkness with the protecting power of the eagles overhead, letting thoughts about the many dimensions of time play in my mind. Emily has been dead for 75 years, yet her paintings live so vividly both in their material form and the eternal nature they capture. The eagles are in designs so ancient even the indigenous people don't know their origins. Out the little window in the attic, Emily would have looked at fields and gardens where houses now stand, their Christmas lights twinkling in this ephemeral season. I left the attic tonight knowing that this was an ending, that I will most likely never be here again. Time as a river . Emily understood that well.
I talk to Emily a lot. I went to her grave yesterday on her 149th birthday,. I pass by a sculpture of her in the Inner Harbour regularly and stop to whisper a thing or two to her. But it is in her attic that I have felt her most.
I tell her I am trying to do justice to her. That though I have to invent my version of her, I am doing my best to hear her speak through the noise of my own voice, my own life, when I write. That I hope I get it right. That I wish I had known her. That every time I step into a forest I will bring her with me. And though she hasn't told me so, I hope she is glad I am here.